2022 Jeep Grand Cherokee vs 2022 Toyota 4Runner
2022 Jeep Grand Cherokee vs. Toyota 4Runner in Whitecourt, AB
Both the 2022 Jeep Grand Cherokee and Toyota 4Runner have hit the market, and given their shared off-road prowess and popularity, we thought it only natural to see which of these SUVs reigns supreme in terms of looks and safety tech. Read on to find out before visiting Eagle River Chrysler Ltd. in Whitecourt, Alberta to find the new Grand Cherokee among our new inventory.
2022 Jeep Grand Cherokee Interior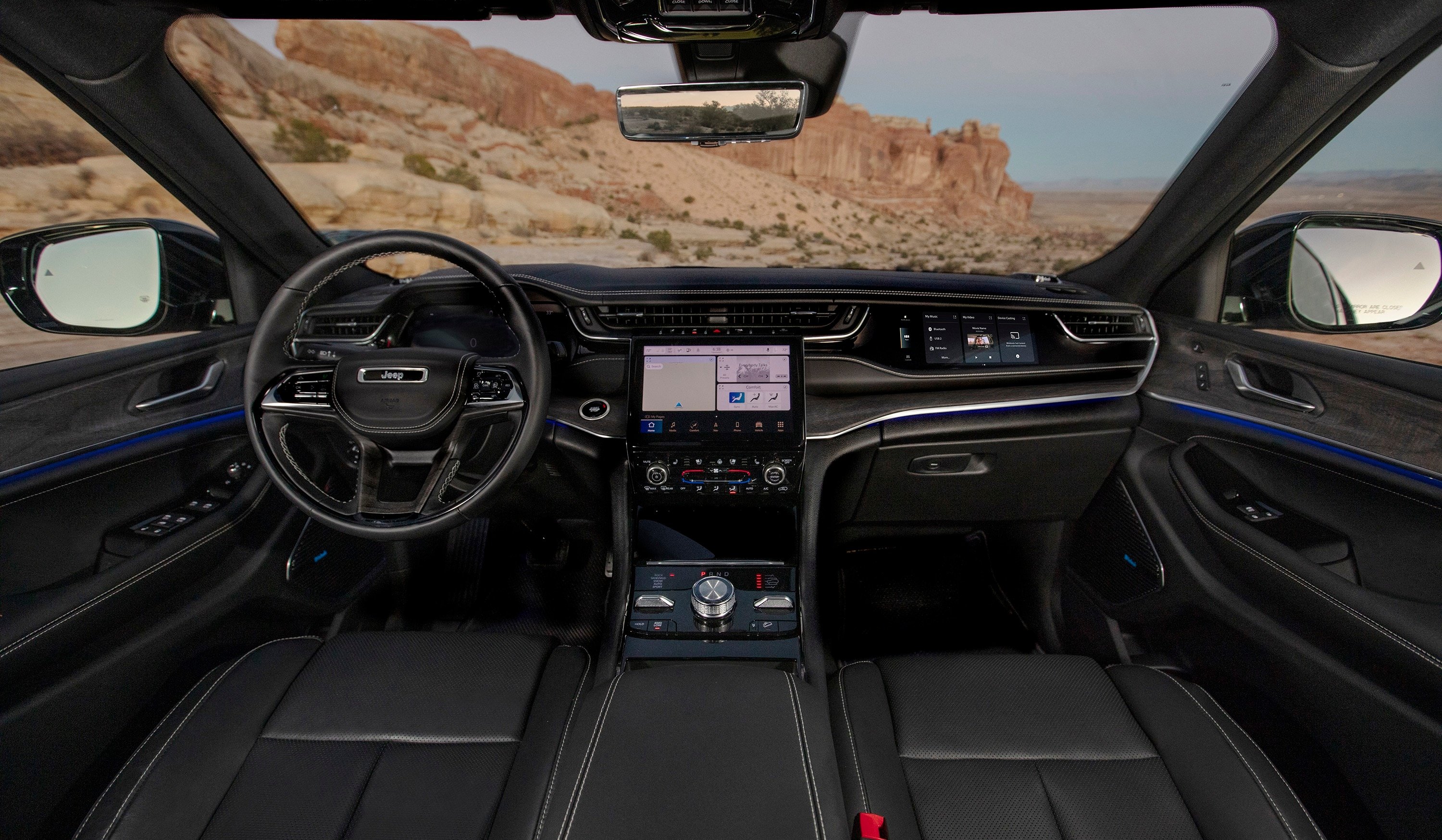 2022 Toyota 4Runner Interior
2022 Jeep Grand Cherokee vs. Toyota 4Runner: Exterior
The design department is where the gap between these two SUVs is the widest. This year's Grand Cherokee gets a tapered roof for improved aerodynamics, a full suite of premium LED lighting, and stunning bodywork for a mature, sophisticated exterior. The 2022 4Runner by comparison, gets a rugged build that suits its off-road capability, but its design remains stuck in the previous decade and is in dire need of a revamp.
2022 Jeep Grand Cherokee vs. Toyota 4Runner: Interior
This pair of SUVs are as different on the inside as they are on the outside. As per tradition, the 2022 Jeep Grand Cherokee can be had with one of many available leather upholstery options, and if you're looking for a larger cabin with a third row, you can always opt for the Grand Cherokee L. Folding rear seats optimize this Jeep's already generous cargo capacity, while 16-way power-adjustable front seats, a massage function for the driver's seat, and ambient LED lighting are just a few of many available features in a refined, comfortable, and practical cabin. As for the new Toyota 4Runner, this SUV's cabin may be roomy, but its materials are as dated as its exterior design, and you'll have to splurge on many comforts that come standard in most competitors.
2022 Jeep Grand Cherokee vs. Toyota 4Runner: Safety
This year's Grand Cherokee is equally generous in safety tech as it is in creature comforts and refinement, offering the most available safety functions in its class. While the 2022 4Runner's Toyota Safety Sense suite offers the basics in safety and driver-assist features, the new Grand Cherokee offers exclusive goods like an Active Drive Assist system with an available hands-free feature, Night Vision, a Surround-View Camera to help you navigate every kind of driving situation, and much more. In short, the 4Runner's safety suite is nothing to sneeze at, but it lacks the modernity of the 2022 Grand Cherokee's lineup.
Contact Us
Any driver interested in seeing the new Jeep Grand Cherokee up close or learning more about it can contact us at their convenience. Our staff will gladly book an appointment for a test drive of this Jeep SUV so you can experience its upscale, well-equipped cabin and refined performance firsthand. Contact us at Eagle River Chrysler Ltd. today for further details.
Contact Us