2022 Jeep Grand Cherokee vs 2022 Nissan Pathfinder
2022 Jeep Grand Cherokee vs. 2022 Nissan Pathfinder in Whitecourt, AB
The 2022 Jeep Grand Cherokee has joined our new inventory at Eagle River Chrysler Ltd. in Whitecourt, Alberta, and we thought we'd find out how it measures up against a popular rival in the new Nissan Pathfinder. Allow us to compare these two SUVs in terms of design, amenities, and safety features before visiting our dealership to experience the 2022 Jeep Grand Cherokee firsthand.
2022 Jeep Grand Cherokee Interior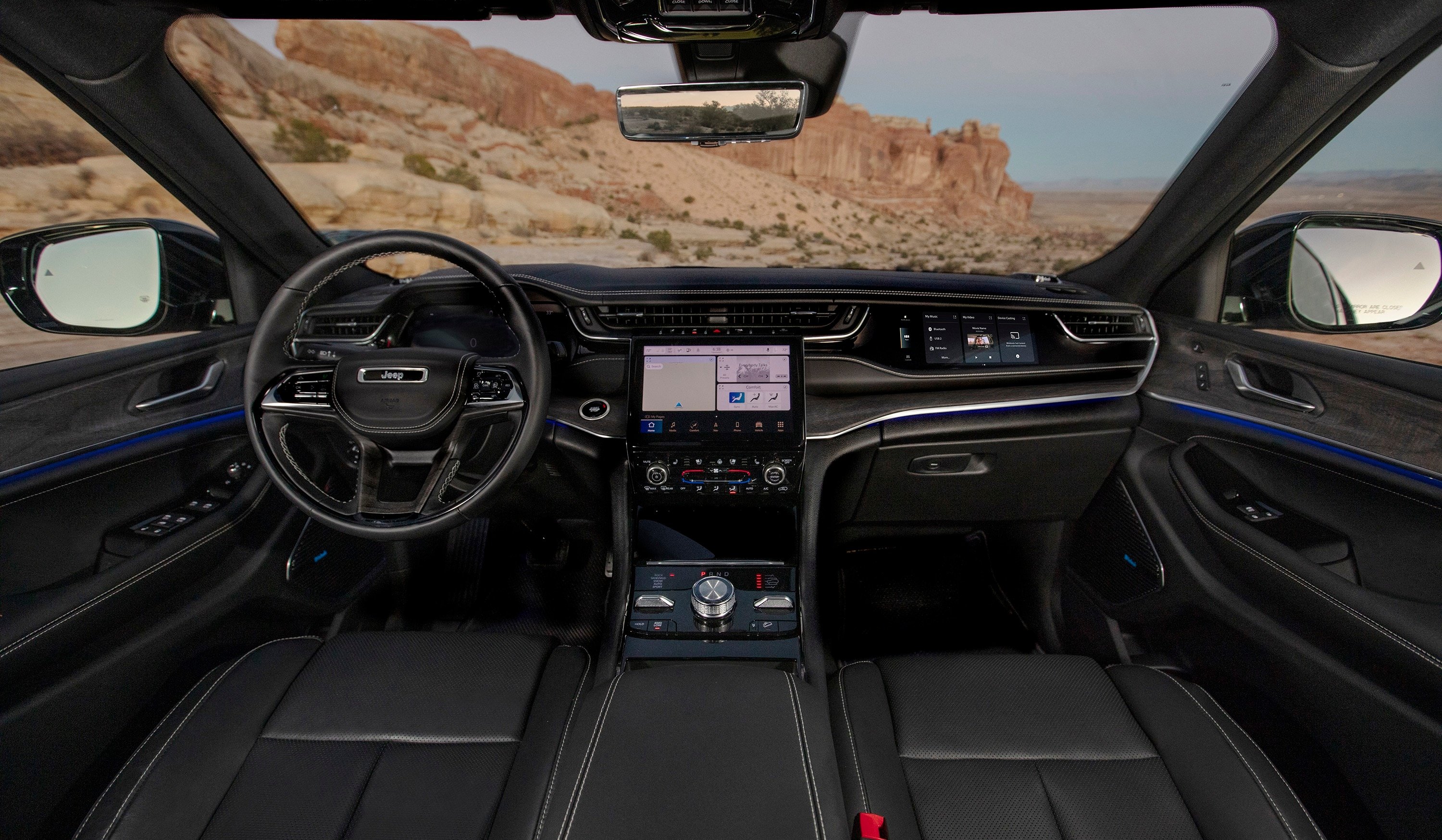 2022 Nissan Pathfinder Interior
2022 Jeep Grand Cherokee vs. 2022 Nissan Pathfinder: Exterior
Both these SUVs enter the 2022 model year with brand-new looks, yet far different results. While the redesigned Pathfinder gets a boxier, more truckish aesthetic for those craving something brawny, the new Grand Cherokee one-ups it with a bold, yet mature and refined exterior. A tapered roof enhances this all-new Jeep's aerodynamics, while its streamlined bodywork and stunning front give it an air of refinement, with a full slate of premium LED lights punctuating its head-turning looks.
2022 Jeep Grand Cherokee vs. 2022 Nissan Pathfinder: Interior
The new Jeep Grand Cherokee and Nissan Pathfinder may be closely matched in terms of performance and capability, but the 2022 Jeep offers far more options for personalization both inside and out. The new Pathfinder comes with a truckish new dash design, supportive seats, and three roomy rows, but the latest Grand Cherokee boasts all that and more. Ample cabin and cargo space can accommodate your every journey with friends and family in tow, with ambient LED lighting available to make your cabin even more inviting on nighttime jaunts. Unlike the 2022 Pathfinder, this new Jeep SUV offers various rich leather upholstery options, available 16-way power-adjustable seats, and both a massage and memory function for its driver's seat, allowing you to enjoy optimal luxury and comfort in equal measure.
2022 Jeep Grand Cherokee vs. 2022 Nissan Pathfinder: Safety
Besides performance, the safety department is where these two SUVs are most alike. While the Nissan Pathfinder offers a respectable Safety Shield 360 suite and a semi-autonomous driving mode in its upper trims, the new Grand Cherokee boasts the most available safety features in its class. Indeed, an Active Driving Assist system makes slight, subtle adjustments to your ride to keep you safe and comfortable and even offers a hands-free feature, while an available Surround View Camera allows you to avoid nearby objects and navigate tricky turns with ease. Whatever your driving situation or preferences, the new Grand Cherokee's safety suite can help.
Contact Us
Whether you'd like to know more about the all-new Jeep Grand Cherokee's performance and features or take it for a spin to experience it firsthand, our dealership can oblige. Contact us at Eagle River Chrysler Ltd. today, and we'll get you properly acquainted with this new Jeep SUV before guiding you through a simple, hassle-free purchase.
Contact Us