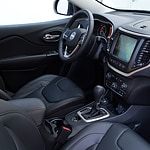 If you are looking to drive a popular compact SUV around Whitecourt, AB, then you will want to give serious consideration to the Jeep Cherokee. There is so much to be excited about when it comes to the capability of this vehicle to drive on and off-road. This makes it a popular compact SUV.
You will find that the maneuverability on the Jeep Cherokee is excellent. You will be able to effortlessly steer around objects that you encounter when driving off the road. This includes big rocks and countless types of tight spots that are bound to pop up during your driving adventure.
There is also a great deal of ground clearance built into the Jeep Cherokee. This allows you to drive over big objects without risking one of them hitting your underside. This is a great safety feature as well. Check it out when you visit Eagle River Chrysler Ltd. and take the Jeep on a test drive.