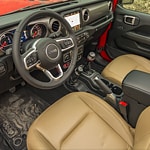 The 2020 Jeep Wrangler is an SUV. It is ready for your road adventures. Many people drive because they love the outdoors. This vehicle has features that will help you get close to nature. This vehicle has a freedom top hardtop. You can remove it when you are ready to let some air and sun in.
The hardtop can be used in just a few steps. If you want to let even more fresh air in, then you can remove the rear window. All you have to do is unhook the latches from the inside. After that, you will need to remove the window from the outside.
In order to put the window back, you will need to repeat the steps in reverse. You can check out the exterior features when you test drive. If you would like to make arrangements to test drive the car, then you can come to our dealership.