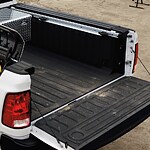 The Ram 2500 has long been one of the top trucks available and is seen on the road nationwide. The powertrain options available allow you to choose which option will best suit your needs. Depending on the job needed, there is a powertrain choice that can handle the load.
The 6.7 liter Cummins Turbo Diesel I6 Engine is famous for its performance and reliability. This engine offers a towing capacity of up to 17,980 pounds that is ready for any job thrown its way. It also offers an outstanding 15,000-mile interval between oil changes.
With the 6.4 liter Hemi V8 engine, the Ram 2500 puts out 410 horsepower, 429 lb.-ft of torque, and over 16,000 pounds of towing capacity. With two spark plugs found in each cylinder, power and torque are increased while emissions from the exhaust are decreased. This helps maximize the power output of the Ram 2500.